Description
The NS-100 is a inorganic penetrating waterproofing agent for concrete.
It is a specifically modified sodium silicate and it penetrates into concrete, reacts with the excess calcium hydroxides of concrete and then forms additional C-S-H (calcium silicate hydrate) which is chemically integrated with the existing concrete.
Because calcium hydroxides of concrete surface are already reacted with NS-100, the treated concrete surface is chemically stable and becomes stronger against chemical corrosion by acids, pollutants and salts.
Additional C-S-H increases the density of concrete and prevents water seepage, chemical penetration and chloride ion penetration.
Features
Environmentally safe water based inorganic penetrating waterproof for concrete
It is a specifically modified sodium silicate solution for concrete penetrating waterproofing.
It effectively reacts with concrete, it is integrated in concrete and provides durable treatment.
It does not coat the surface of concrete, so the treated concrete breathes as ever.
The appearance of the treated concrete is not changed.
The densification of concrete surface goes better as time passes.
It can be applied both new and old concrete.
Easy application
Benefits
Prevent water seepage, chemical penetration and chloride ion penetration
Enhanced abrasion-resistance, chemical-resistance and weathering resistance
Protection of concrete and the extension of concrete life
Uses
Waterproofing and protecting concrete buildings, facilities and bridges
Protecting concrete from salt damages, carbonation
Product Specifications
NS-100
pH
11-12
Specific gravity (25℃)
1.100-1.200
Solid (wt%, 250℃, 1Hr)
27±1
Viscosity (cps, 25℃)
Max. 30
Appearance : Transparent liquid
Odor : None
Freezing point : 0℃ (32℉). Do not freeze it.
Storage : 12 months at normal condition and closed container
Packaging : 18L/can, 200L/drum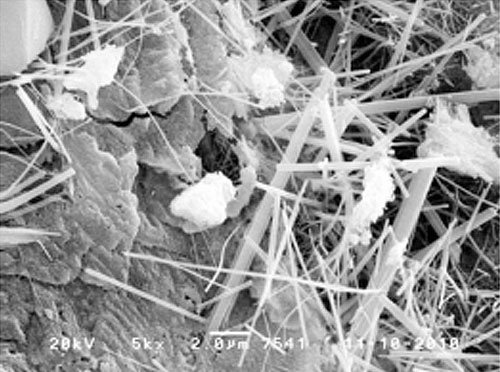 [Untreated concrete]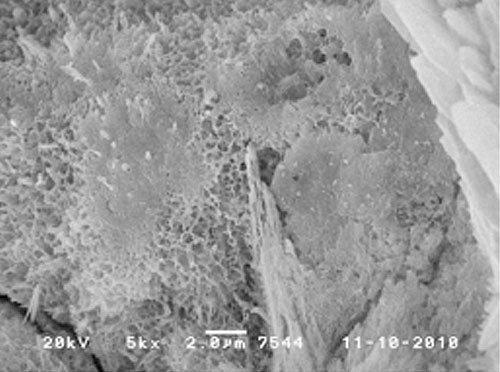 [Treated concrete (additional C-S-H)]
Application Recommendation
1)Cleaning the concrete surface:
The effect of Bangsulee NS-100 depends on its full and equal penetrating.
It should not be applied to concrete surfaces that have been either coated or oiled. Such surfaces must be cleaned before it is applied. Laitance and dust also need to be removed.
For the cracking bigger than 2㎜ or other structural failure, it is needed other treatment before the application.
It should not be applied on the surfaces which NS-100 can not penetrates into, such as soaked surface or surface water is running over or have puddles of water on. Such surfaces must be dried before it is applied.
It can treat both old and new concrete, but the newly poured concrete must be cured at least 28 days or more.
2)Working conditions:
Use NS-100 at the condition between 5℃ and 35℃
Do not use NS-100 on very hot, freezing, rainy or high windy days.
3)Application:
Apply NS-100 once by means of low-velocity spray unit. In order to apply full and equal penetrating, adjust spraying velocity, angle and moving speed of nozzle.
Do not apply excess hardener on concrete enough to make a puddle on the surface. After drying, the excess hardener may form film caused to white stains. If some liquid is no longer absorbed and remained on surface, remove it immediately with a broom or roller.
4)Curing:
Initial curing period is more than 3 days. The drying time is typically within one hour, very shorter than curing time. Longer curing time is better. Cure the treated concrete more than 15 days.
Keep water not to run over or not to make puddles on the treated concrete surface during initial curing period.
5)Compatibility with other coatings:
If necessary, paint or coating can be applied on the treated concrete surface with NS-100. However, sufficient curing more than 2 weeks is needed before painting or coating.
Caution
This product is for concrete only. It can not be used for blocks or stones.
Since this product is soluble silicate, it can not be removed well when it is attached to glass or aluminum. Protect adjacent windows or vehicles before application.
Safety
Read the Material Safety Data Sheet before handling and using.
Do not freeze. Keep closed container.
Do not breathe spray mist. Do not taste or swallow.
Wash thoroughly after handling.
Promptly clean up spills or contaminated clothing with water.